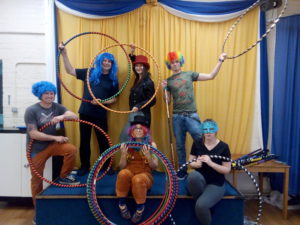 Poi Passion specialises  in challenging and motivating adults in a fun and encouraging setting, ensuring a high level of achievement. What a great way to find out about brain gym exercising, coordination skills, motor skills, and seeing who within your group is creative and a natural team leader/teacher. This is very different from your average Team Building day!
We create an electric atmosphere with students being placed in teams and working on each piece of equipment with circus music to get everyone moving, then balance the chaos and calm the room in-between each skill where we take a breath.
Suitable for: 
Teacher Training, Corporate, Companies, Charities Staff Training, Christmas Parties
Skills Include:
Juggling, Hula Hooping, Diablo, Flower sticks, Poi Spinning, Staff Spinning, Plate Spinning, and Skill Games.
Take the workshop off the floor and add in Balance Skills
At the end of the workshop, the students get to perform a circus show.
The capacity of these workshops is up to 40 Based on two workshop leaders.
For larger classes additional workshop leaders are required at an additional cost will be added.
We can also source venues in Worthing or Brighton for you (cost between £20 to £50 p/hour
Half-Day Workshop – 9 am – 12noon (3 Hours) one 15 minute break
Full-Day Workshop -10am – 4 pm (6 Hours) two 15 minute breaks and  of 30 min
Sussex /Worthing
Half-Day £350
Full-Day £600
 Balance Section +£100
Surrey
Full-Day £800
 Balance Section +£200
London and beyond
Full-Day £1000
 Balance Section +£200
Travel will be added at 60p/mile.
All our teachers are fully CRB /DBS certified, first aid trained and Poi Passion holds Public Liability Insurance of £10 million. We operate through child protection, photo disclosure, and disability integration policy as well as full workshop risk assessment.
For more information and communication please  Kate@poipassion.com